The last few years have seen a radical change in audience behaviour and expectations. It's great to see live audiences back in the room, but hybrid elements will be with us from now on.
Remote audiences want to be included, and remote presenters expand your content horizons. Behind the scenes, it's 10x the details we need to check in pre-production.
Scene Change was the first company to build a national network of virtual studios in the COVID years. We engaged TV professionals to teach our crew how to run a show that holds viewer attention under the new rules.
We developed a lot of processes that made hybrid events a much smoother experience for our clients. Based on that knowledge we created this 10 Essentials For Successful Hybrid Events document to help you get the best show possible.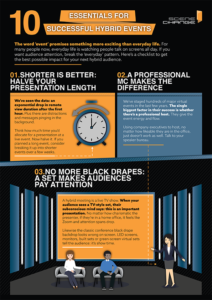 FREE DOWNLOAD: 10 ESSENTIALS FOR SUCCESSFUL HYBRID EVENTS
We also made a series of videos to show how a good hybrid event can look and feel.